The catwalks of Fashion Week exhibit new fashion trends and high fur



 

Established during the Second World War in New York to highlight American designers, Fashion Week, due to it taking place twice a year, has become one of the major events in the world of fashion exhibiting all the new trends in this area.


 


The first Fashion Week of 2014 began in New York; we were able to admire the latest trends by the greatest fashion designers: Dior, Chanel, Versace, Valentino etc. A big comeback in fur sleeves was noted amongst BCBG Max Azria. For others, such as Nicholas K, wide fur hoods and cloaks of rabbit, fox and even raccoon were on show. Noted colours this year were shown as designers seemed to favour grey, caramel and black. For Versace, original fur was on show and colours that were in the spotlight this year were geared towards grey, deep yellow, indigo blue and gloss black.
From February the 13th until the 17th, London Fashion Week succeeded that of New York. This year, alongside the catwalks of Burberry, Paul Smith, Vivienne Westwood etc., we were also able to see young designers showcased such as the Felder Felder sisters, Topshop and also Bora Aksu. The presence of the fur mini shorts or even the fur tail adorning the back of a Westwood skirt, as well as the sleeveless fur vest from Paul Smith were noted trends. With regards to colours, there was a dominance of grey, yellow, purple and black.

These trends will certainly be confirmed during the course of the next official Fashion Weeks, namely the Milan Fashion Week which will be held from the 18th until the 25th of February, and the Paris Fashion Week which runs from the 25th of February until the 5th of March 2014. We will be back!...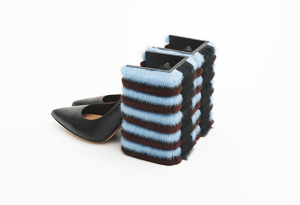 The specific case of the Copenhagen Fashion Week…

Although not part of the traditional Fashion Week circuit, Fashion Week in Copenhagen is essential with regards to the coming trends in fur…

This year, it will be held from the 28th until the 31st of January.

Many designers have put fur in the spotlight such as Freya Dalsjö, Malene Birger, Anne Sofie Madsen etc., just to name a few! A noted trend is that mink skin is primarily used and for a good reason- it is an economic issue as Denmark exports a very large quantity; we were also able to see this matter expressed extensively on jackets, coats and types of trousers. But the most surprising was certainly the result of the find, as far as the heels in the highly avant-garde Freya Dalsjö signed and achieved with the collaboration with Kopenhagen Furs. The basic idea is to create modern, luxurious shoes which are simple and timeless. Certainly successful, it is an ideal accessory for a chic and really different feel!