At the Milan Fashion Week, in conjunction with the Autumn/ Winter 2014/15 collection fur was honoured, strongly represented by beautiful fox fur coats. The amazing duo of Karl Lagerfeld and Silvia Venturini Fendi were pleased to return to the theme of nature in an urban world, with fur as a fair return to the source.
After New York and London, it was Milan which held Fashion Week, the major event which takes place in the mythical city of fashion and haute couture. The magnificent and imposing model Cara Delevingne under her fur hood opened the show, dressed in black with white gloves, and holding in her hands a real fur, small plush toy in the likeness of Karl Lagerfeld. The imposing presence and chic of fur has made all the difference.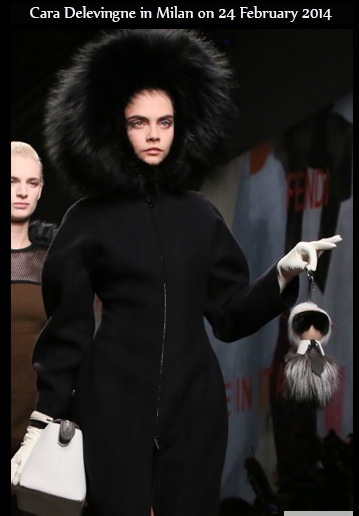 he entire collection revolves around the theme of nature; Fendi goes for clothes that blend with wood by using luxurious fur in natural colours.
Blacks, greens and browns are all colours that are reminiscent of the Autumn forest; these colours transform the city-dwelling models into queens of the forest, whilst beautiful fox fur jackets complete their amazing look.