This year the MIFUR was held in Milan from the 4th until the 7th of March. This professional exhibition of fur and leather, of an international scope, was a unique opportunity to see a preview of the future Autumn/ Winter 2014/15 collection.


Fourrure-privee was present at the MIFUR in Milan and conducted this survey for you.
Classic and original

Whether at the big houses of Manzari, Sprung Frères, Romagna Furs or Manzani etc., or the more confidential setting such as Gavazzifurs, we must recognise a return to "the basics," not devoid of originality but still very tasteful and expressed in an unpretentious manner.

With regards to Manzari, we saw "double-sided" coats with swakara fur on one side and mink on the other, as well as beautiful bicolour mink coats with pearl and mahogany tones in the patchwork from Gavazzifurs. Last but not least, we have clearly seen more of the "lighter" and easier to wear collections than in previous years; which makes a treat for the whole year long.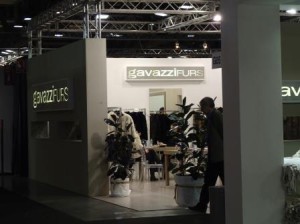 The darker colour trend

Unlike the Spring/ Summer collection, it seems to be that the upcoming Autumn/ Winter 2014/15 collection is veering towards more classic colours: pearl, black, grey, brown, dark brown and (more surprising yet still gorgeous) navy blue and warm grey. These colours are found on virtually every stand this season.

The observed trend from the Milan Fashion Week has been confirmed, enough to ensure that the new winter collection is timeless, and therefore poses no risk for future buyers! On the other hand, gilets despite their simplicity were observed in many different colours. It seems that there is a real trend here with regard to this type of clothing, which can be worn on a daily basis regardless of the season.


Popular jackets…

With regards to traditional jackets, coats and gilets, the major arrival of the fur sports jacket is worth noting. They can be made from fox, mink and sable, often with bright colours even in blue, with some of them being reversible. They can also be found in more stylish variations and can be worn in a half-coat, half- jacket style. Some brands have even gone as far as to specialise in this type of clothing and offer a variety of different versions such as the Parka for example.
…and a mix of different furs

Whether it is Astrakhan and mink fur, finn raccoon or fox fur, crocodile and sable, the mix of these pelts/ leathers/ furs seem to be a major feature in the upcoming Autumn/ Winter 2014/15 collection. All of this is sure to be confirmed in the next International Kastoria exhibition which will take place late April. We will certainly keep you posted..