Sometimes we love a type of fur for the warmth it provides, for its softness, or for its sense of sensuality. But can we say that the fur of today is exactly what our parents used to wear, even our grandparents?


Fur is a noble, delicate, attractive and truly desirable material. It has always symbolised femininity. Do you remember the 1920s and the sublime coats lined with fox fur, the 60s with the wraps and boleros worn by American and Italian idols at the time when our parents were young.


And what do you think of the 70s with loose coats and yeti worn by androgynous models and pixies of the time! Fashion comes and goes, changes and is turned upside down but it always puts the woman first to try and add to her beauty.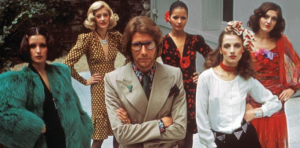 In the old days, fur used to symbolize luxury and was worn as a sign of distinction. A woman had to have at least one beautiful item. She kept the exceptional item in her wardrobe; those being  sable, mink, fox or, it was a coat, a jacket, and a wrap that she enjoyed every winter.

Now we wear fur every day, more comfortably and perhaps in a more relaxed manner! Today you find it with little added touches (hoods, charms, pompons) or in the form of accessories (hats, snoods, gloves, bags) and we don't own just one unique exceptional fur product.


Another factor to take into account is the evolution of working techniques. In the past, the skins of coats or jackets were primarily made by stretching (a system of cutting the skins in a V, a delicate and very long technique) or from full hides.

Now, even if the full pelt trade is still topical, because it has been greatly reduced, there exists today a very large amount of techniques. Their aim is to cut back (braiding, knitting), to decorate (intarsia) or to "transcend" the fur in a new material like embroidery, weaving, 3D, mosaic or diamond form. These techniques are notably elaborated by Saga Furs.

So, you're quickly getting bored of your coat and overcoat … the temptation to own several of them ends up being irrepressible so much that the fur is transformed according to the technique used.

Finally, the quality of the pelts has evolved a lot. You know the difference between male and female mink pelts. The female mink pelts are lighter and smaller, softer than the male mink pelts which are bigger, heavier…. But, from now on, thanks to the process of selection of mink pelts achieved by farmers, we are finding very soft, shiny and a lot lighter male mink pelts than those of yesteryear.

The hide is no longer as thick and although showing differences in appearance and feel, they resemble female mink pelts more and more. This is so true that a large number of well-known Parisian furriers are making certain designs in their collections with the splendid male mink.

Yesterday's fur or tomorrow's, fur has always accompanied women. Regardless of the joy of being warm in a soft and voluptuous cocoon and once the notions of legitimacy of wearing fur or not have been put aside, fur remains a story of feeling and impression.

Fur is a trigger of emotions and of sensations for which we wear it and leaves no one indifferent!