The cold is setting in and winter is here. The consequences of such a drop in temperature very often lead to various aches and pains such as colds, sore throats, etc… it is therefore essential to protect yourself as much as possible in order to avoid this unpleasantness.
Protection against the cold starts with head protection because the loss of heat can count for 30% of illness. So, here are some ideas to protect yourself in order to avoid the attacking cold all whilst staying stylish.
Choose a hat that suits you
Wearing a hat isn't always easy. Especially if you aren't used to it. If you're worried that it won't work for you, opt instead for a woollen hat. Easy to put on, warm and available in numerous colourings, it is the ideal accessory. What's more, it never goes out of fashion!
As it is generally made in unique sizes, you could always give it to your children if you are no longer sure if you want to wear it or you fancy a change. Choose one of a high quality; pure wool always provides more warmth than an acrylic model. 
If you like hats, caps and shapkas, then treat yourself because the choice is vast. Don't just match your hat to the colour of your coat, play around more with the different colours and materials. A hat is a fashion accessory, it is there to affirm a style and to refine an outfit all whilst assuring a protective role.
On the other hand you could also match it to your gloves, mittens or simply to your fur sleeves.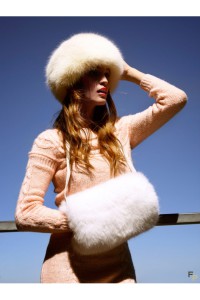 Also choose your hat in accordance with the fur you like. If you like fox, then choose an "eccentric" shape because fox hair is thick and keeps well.
This allows for a choice from very beautiful models with a more or less traditional look. If you like Finnish raccoon fur, you could opt for a more stylised hat because raccoon has long hair with ash-coated tips, which flit around and allow for a more modern lining.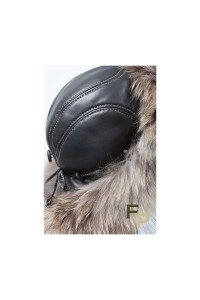 Finally, if you like rabbit, its thick fur, long or short (according to the quality of the retained rabbit) lends itself perfectly to a round hat and to traditional or stylised shapkas.

The second place to protect is your hands. In direct contact with the outside, it is recommended to never remove your two gloves at the same time in order to control the loss of heat.
Choose your gloves according to your style
Very traditional, but no less magnificent, leather gloves. You can opt for a style according to your own wishes.
For a more relaxed style, you could choose fingerless mittens. Many forms exist: short, long, even very long, in lamb, in two materials, (e.g. lamb and wool) etc…
They provide enough warmth to protect your palms and wrists and leaves the tips of your fingers free so you can write, drive or use your phone.
For a "mountainous" style, opt for mittens. As easy to put on as they are to take off, lined from lamb fur or not, they offer a lot of comfort and a lot of warmth. An old classic but which offers a vast choice: with or without pompons, opening with or without a zip, etc…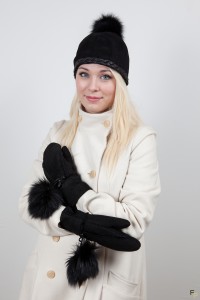 For a more "fashionable" style you'll fall for hand-warmers. Superbly feminine, hand-warmers are trendy and mark a very fashionable line. Your hands will find a haven of softness because hand-warmers are lined in fur and keep total freedom in your movements for you.
What's more, it is very light to wear and is available in a multitude of colours and materials (rabbit, fox, lamb, etc…) Ideal for bringing a final touch of style and originality to your ensemble.
Whatever your style, experiment, discover and wear! Accessories are there to complement your style and please. If you chose an "all fur" accessory or with a fur tip, be mindful in every case. Choose the items where the fur comes from biggest international labels (Saga Furs, Kopenhagen Fur) etc….
The latter will guarantee the quality of your purchase and your fur will meet the highest selection standards.
If that isn't the case, the fur that you buy is at risk of coming from non-tested farmers- this should be avoided in every instance (much inferior quality, durability in weather, ethics concerning animals and so on).
However be wary of the prices : quality and ethics have a bit of a higher price, but you'll you will know with certainty what you are buying!