The appointment was made long ago, and we were not about to miss it. Fourrure-Privée visited the 41st International Kastoria Fur Exhibition in order to stay on top of current trends and colours. The exhibition was held in Macedonia (north of Greece) over the 5th to the 8th of May.
After a long voyage to reach it, we finally arrived at Kastoria, a beautiful village nestled around the beautiful lake Orestiada.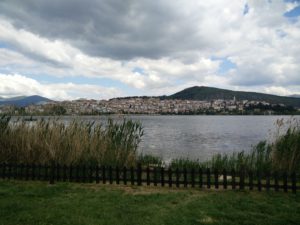 Kastoria is THE mecca for fur. In the village, there is not one member of any family that does not have a direct or indirect link to fur, whether it is through production, breeding, cutting, sewing or design. We discovered how the work required for fur is an art practiced by enthusiasts who neither count the hours nor the hard work needed; the work is largely done by hand whether it is by people in the village or designers in the major fashion houses.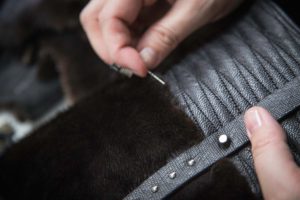 Which types of fur for which customers ?
Reserved exclusively for professionals, this event is primarily intended for the Russian and Asian markets, the proof for this can be seen from the decoration of the stalls there. However, it has been noted more so this year that the market is turning more towards the European market.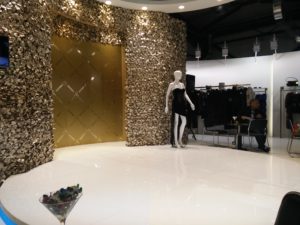 The explanation for this occurrence is the scarcity of Russian customers, due to economic sanctions and the fall of the rouble, and the lack of Asian customers who are usually so fond of fur!
In terms of materials
Contrary to previous years, lynx was losing momentum, and it was also surprising to see less zibeline and chinchilla. In fact, some fashion houses only had a few dozen different pieces on show whereas in previous years there was double or even triple this amount. This was also big news, fox fur which was ordinarily scarcely represented at this show was present a lot more than usual- examples of this were beautiful long fur coats which come down to cover the feet.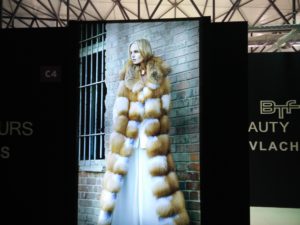 In terms of astrakhan there were no changes, which always has a presence each year. This is still the exhibition where we see the most beautiful works of swakara.

Swakara by Avanti Furs
The flagship for fur is mink, mink and yes, more mink!! Whether it is worked into full skins or worn horizontally, mink clearly remains the "star" of all fur. This year at the exhibition we found that many materials worked well in unison: mink and cashmere, mink and astrakhan, mink and leather, mink and reptile skin etc. With regards to colour, different colours were mixed in with irresistible black colours and noble Blackglama;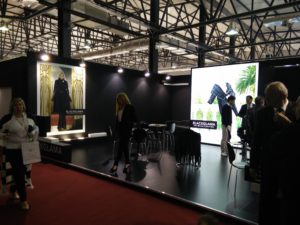 we saw that greys were quite abundant but Sapphire grey and Iris blue were less common-for 2017 long live Silver Blue. This beautiful colour will be THE colour trend for this winter!

In terms of style
 With the combination of materials, the designers have worked hard for fur pieces which are transformable, convertible and reversible (as always, with the very remarkable Manzoni 42 collection). Many collections made use of decorative mosaic/intarsia (a fur sewing technique which was mentioned in a previous article) which has now confirmed its breakthrough in numerous collections. Some of the fashion houses present had almost a half of their collections made from the intarsia technique.

Finally, and to address the fashion needs of today, fashion houses offered a lot of fur accessories. Hats, gloves, mittens and scarves were available in all different types of fur and colour, this helped to prolong the magic and softness of the fur all down to the smallest detail!
Once again, a brilliant exhibition in 2016. The Kastoria Fur Fair remains an exceptional exhibition as it is situated in the world's cradle and crucible in fur. Even outside of the exhibition you come across the biggest names; the shops and showrooms, akin to Greek temples, remind you that you are in "the fur place to be"!