The world of fur is represented by institutions and major international groups that are found in Europe, America and Asia- this is the case with NAFA. Known today under the name of NAFA (North American Fur Auctions), this is certainly the oldest institution as its activity dates back to 1670 with the founding of the Hudson Bay Company (HBC).
The history of HBC and NAFA's future is closely linked to American history through business development and expansion in large areas of North America. During the course of the nineteenth century it became the world's largest landowner, and it was around this time that the Hudson Bay Company began to segment its various businesses (fur, property, wholesale distribution, natural resources etc.).
It was after decades of development, successive refocusing and the sale of certain businesses that in 1992 after purchasing the New York auction trade, the US Organisation of Mink Breeders became partners with the Canadian Association of Mink Breeders and the Canadian Fox Breeders' Association. These companies were then regrouped under the name of NAFA (North American Fur Auctions). In 2000, the NAFA group expanded and opened to Canadian and American trappers. From then on NAFA was 100% owned by these four groups.
What is NAFA's role?
NAFA organises auctions and sales of raw pelts in North America, just as Saga Furs does in Europe for mink, fox and astrakhan and as Sojuzpushnina does in Russia for zibeline. NAFA is the largest auction house in north America and the second largest in terms of volume in the world.      
NAFA's business involves the selling of furs and raw pelts; these pelts originate from fur farms across North America and Europe, and even from wild animals caught by North American trappers. NAFA primarily sells farmed mink and fox fur (11 million pelts), but above all it offers the largest and most comprehensive collection of high quality Alaskan wild furs such as the sable, lynx, otter, wild fox, beaver, ermine, wolf and the wolverine.
All of the pelts are registered by the producers- both farmers and trappers, they are then categorised and sorted into size, quality and colour. If there are bundles of pelts of the same description, they are regrouped into a chain. The bundles and the chains are then inspected and sold at public auctions, which take place in Toronto 3 to 4 times a year. If specific bundles are not sold then they will be subject to private sales.
Who buys at NAFA?
The buyers at auction are merchants, traders, designers or fashion houses.
Indeed, the quality of pelts which are NAFA labelled is very well established- once these exceptional pelts are validated they could go on to be sold and utilised to form the finest fur garments.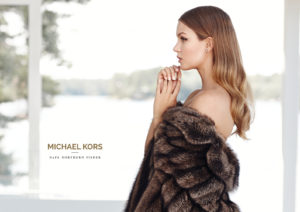 NAFA also has an eye on the future!
In 2007 the "NAFA Studio" was created; its aim is to facilitate creative workshops, outreach programmes and competitions for young designers all whilst teaching, encouraging and inspiring fashion designers of today and tomorrow!