This year, fur remains an indispensable accessory for a winter wardrobe. As it is a symbol of luxury, fur adds a touch of extravagance and elegance to your outfit.

Many stars, whether men or women, all wear fur with pleasure. Macklemore, Rihanna, Kate Moss and even Kanye West are ready to don fur coats and jackets to complement their style.



However, what should you do if you are not accustomed or indeed have no desire to wear a fur jacket or mink coat? Here, for you, are the top 5 fur accessories for a successful 2014 winter look.
Number 1- The fur gilet
Black Fox jacket

With a little black dress or skinny jeans with boots, the fur gilet is the key item of clothing this winter. The fur gilet is much easier to wear compared to a long-sleeved jacket or a big, long fur coat. The fur gilet at the same time gives a more casual yet chic look to your outfit.
Number 2- The rabbit fur shapka

If you are a fan of the wide-brimmed hat in the summer, in the winter you should try a fox fur woolly hat or fox and suede leather shapka, the perfect way to stay warm throughout winter.

A fur hat is a fashionable anti-cold accessory, which moreover, was seen everywhere on the podiums of the last Fashion Week, notably with the famous king size hat.
Number 3- Mittens, hand warmers and fur gloves

During the winter, our hands have a tendency to dehydrate and crack in the cold. In order to keep those pretty little hands nice and soft, we do not hesitate to wrap up well in big fur mittens, in hand warmers or in woollen gloves for warmth.

In addition to retaining heat, these very fashionable accessories are soft and gentle on you throughout the day.
Number 4- The fur collar

It is especially during this long period of cold that angina hits hard. To prevent this from happening, the fur collar is back in force to help you avoid large round collars or bulky scarves that do little to keep you warm. In addition, the detachable collar is very trendy this year and is associated with all types of outfit, whether classic or casual.
Number 5- Fur ear muffs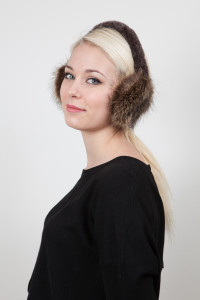 To avoid having frozen ears, nothing is better than being equipped with fur ear muffs; very fashionable in the '80s, they have made a comeback and are back at the fore. As well as protecting against the cold, fur ear muffs are a key accessory to your wardrobe in winter 2014.