Description
We designed this coat for those who want a modern and contemporary coat. The cut is decidedly feminine, thanks to the beautiful shoulders and three-quarter sleeves delicately worked on the arms. It closes with hooks and a magnetic neck convenient. This is a "Blackglama", it means that you have in your hands a piece of black mink fur of a rare and exceptional quality.
To qualify as Blackglama, the pelt must be free of any imperfections on both the fur and leather. With such high criteria, less than 2% of the world's mink population earns the exclusive Blackglama name and can bear the coveted Blackglama label. Blackglama garments carry a label displaying a unique serial number, providing permanent identification, as well as other security features that ensure that the label is genuine—not an imitation.
Measures
We will make this fur to your size according to the measurements that you will indicate to us according to the pattern below.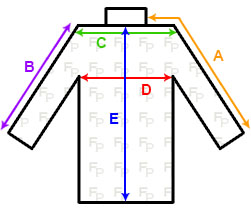 Fur Care
We advise you to clean your fur once a year to a specialist "leather and fur." In case of rain, let dry your fur in the open air away from heat sources and direct sunlight. Hang it on a wide hanger and store it in a cotton bag with space between your clothes.
Shipping & Returns
Express shipping carried by TNT or Chronopost. Delivery times in mainland France are 1 to 2 days, from 2 to 4 days in Europe and Corsica and 3 to 5 days in the rest of the world. Classic expedition conducted by Colissimo. Delivery times are 2 to 3 days in France, from 4 to 8 days in Europe and from 5 to 9 days in the rest of the world. Private Fur offers delivery in mainland France, Corsica and Monaco from 100 € purchase. Returns:  Custom / custom furs can not be returned or refunded, but can be changed upon request.