Description
Cut like the model in full skin, here is our flagship model in declination full horizontal skins. With its small magnetic high collar that can be worn in classic collar and its ideal lines, you will wear this jacket with all kinds of outfits. Between style, price and quality, this mink jacket is incomparable to others! It can be tailormade in all sizes as well as black mink, sapphire grey or silver-blue grey.
Measures
We will make this fur to your measurements, according to the measurements that you will indicate to us according to the pattern below.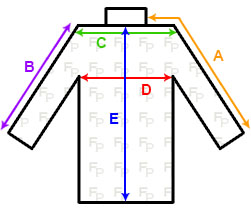 Fur Care
We advise you to clean your fur once a year to a specialist "leather and fur." In case of rain, let dry your fur in the open air away from heat sources and direct sunlight. Hang it on a wide hanger and store it in a cotton bag with space between your clothes.
Shipping & Returns 
Express shipping carried by TNT or Chronopost. Delivery times in mainland France are 1 to 2 days, from 2 to 4 days in Europe and Corsica and 3 to 5 days in the rest of the world. Classic expedition conducted by Colissimo. Delivery times are 2 to 3 days in France, from 4 to 8 days in Europe and from 5 to 9 days in the rest of the world. Private Fur offers delivery in mainland France, Corsica and Monaco from 100 € purchase. Custom / custom furs can not be returned or refunded, but can be changed upon request.